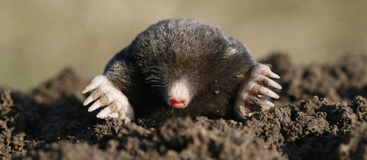 Just like any creature walking, crawling, wiggling or flying among this earth, we try to stay as warm as possible during the cooler months of the year. Whether that's by snuggling up on a couch with a warm cup of hot cocoa, or taking a relaxing, hot and steamy bubble bath while drinking a glass of wine, everyone keeps warm differently…except for animals!

Animals will do almost anything it takes to find a shelter which will provide warmth to them. Whether the animal that finds their way into your home is harmless, or it is a dangerous carnivore that you never thought you'd encounter, all animals have the same idea: Get warm when it's cold outside.
What do you do when your home has been invaded by a family of animals or a single furry creature?
If you have an animal invading your home, it's crucial you call Ray's animal control team in Piedmont. With our incredible love for animals and our dedication to making sure you live in a pest-free home, we offer the best of both worlds: Cruelty free animal control. We understand how nightmarish your home can become if there's an unwelcomed guest making your home their home. Let us help!
The types of animals we routinely handle include the following:
Groundhogs

Opossums

Raccoons

Squirrels

Snakes

Bats

Foxes

Beavers

Chipmunks

Moles

Voles

And More!
Because of this, we've made it a point to provide home and business owners the reliable animal control they need in the Piedmont area. To learn more about our animal control service, please feel free to give us a call or fill out a contact form.
---
[uxi_button link="https://www.raypestcontrol.com/company/contact/" new_window="1″ tel="0″ class="button-block button-block-mobile button-32″ padding_x="" padding_y="" text="Schedule a Consultation To Resolve Your Bed Bug Problems Today!" text_size="20″ text_size_mobile="" text_font="header-font" sub_text="" sub_text_size="12″ sub_text_size_mobile="" sub_text_font="header-font" icon="" icon_size="12″ icon_size_mobile="" icon_align="